AMERICA'S HISTORY IS IN YOUR BACKYARD
On April 29, 1813 the fate of a young America was far from certain. A scant three decades after the end of the revolution that resulted in its independence, the United States was once again at war with Britain; and it was going badly for the fledgling nation. From June 1812 to February 1813, American forces lost Forts Mackinac and Detroit in the Michigan Territory, as well as Fort Dearborn in the Illinois Territory, and were defeated in battle at the River Raisin in Michigan.
But ten fateful days changed all that. From April 30 through May 9, 1813, twelve hundred American troops at Fort Meigs stood fast against the combined forces of British and Canadian soldiers and Native American warriors. Handing Britain and its allies their first major setback on America's northwest frontier, these gallant soldiers turned the tide of the War of 1812.
Today, your students can tour this key frontier fortification and experience the life of a soldier or piece together the past by examining historic artifacts. Through these various educational programs your students will begin to unravel the conflicting interests of Native peoples, European empires, and the desires of a young nation.
BOOK YOUR FIELD TRIP TODAY
Reservations are required for all programs. For questions or to sign up please call Fort Meigs at 419.874.4121.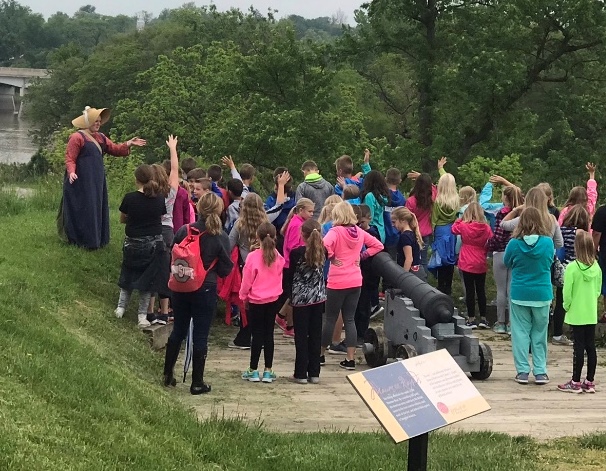 GUIDED TOURS
Available April – October
What you'll do & learn:
Costumed interpreters lead students through Fort Meigs, giving a detailed narrative and answering questions along the way
Students learn about the causes and effects of the War of 1812 and the events at Fort Meigs
Students learn about how the War of 1812 influenced the development of Ohio and the United States as well as how regional geography affected events in the Northwest Territory
Associated Costs:
Students: $5.00
Chaperones: $5.00
Teachers & Bus Drivers: FREE
More Details:
Recommended time: 1 ½ – 2 hours
Tours are modified by grade level
Minimum of 15 students required
Developed to compliment Ohio Social Studies Standards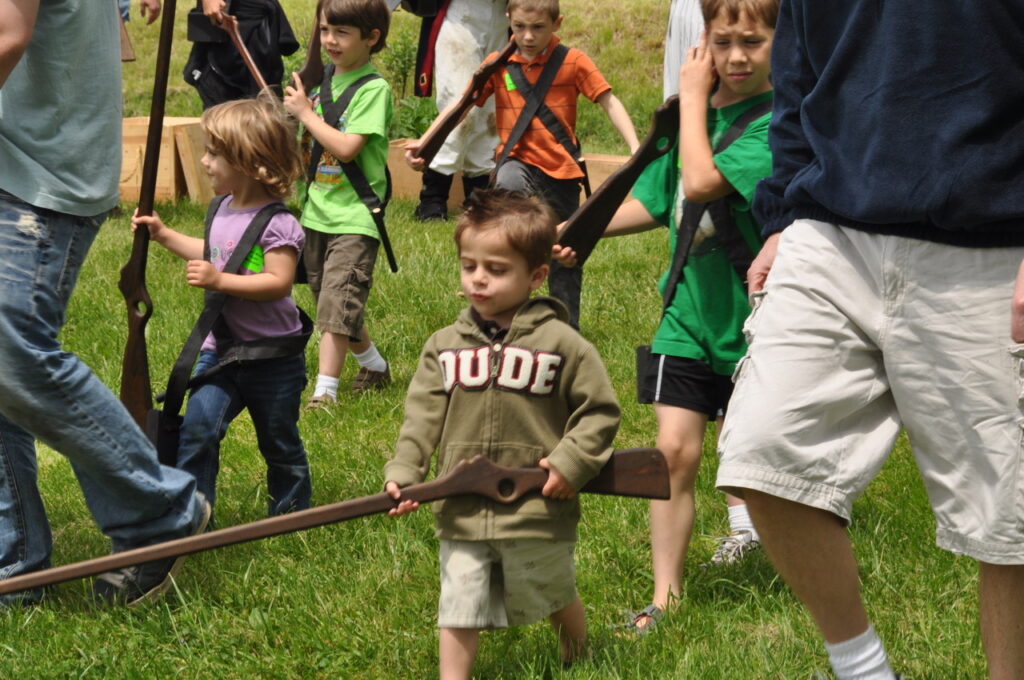 STUDENTS ANSWER THE CALL TO ARMS
Available April – October
What you'll do & learn:
Students assume the role of soldiers in the U.S. Army during the War of 1812
The student army learns the manual of arms and the military step to illustrate how armies fought in 1812
Students debate their individual needs against the common good of defending Fort Meigs
The student army builds blockhouses and participates in a court martial to learn about daily life and compare it to today
Associated Costs:
Students: $7.00
Chaperones: $5.00
Teachers & Bus Drivers: $3.00
More Details:
Required time: 2.5 hours
Minimum 18 students
Developed to compliment Ohio Social Studies Standards
HOMESCHOOL DAYS
April 27, 2023 and September 14, 2023
In an effort to accommodate all types of schooling into our historic programming, we offer days set aside for homeschool students to enjoy and visit Fort Meigs. This program includes a day of rich activities advancing the social studies curriculum. Click here to learn more.
Appropriate for ages 9-14. 
Registration Required: 419-874-4121
A history podcast of stories from The War of 1812.
Here we use diary entries, memoirs, letters home, poems,
and music to convey some basic ideas
in the story of the war.
Hosted by the staff of Fort Meigs
Historic Site in Northwest Ohio.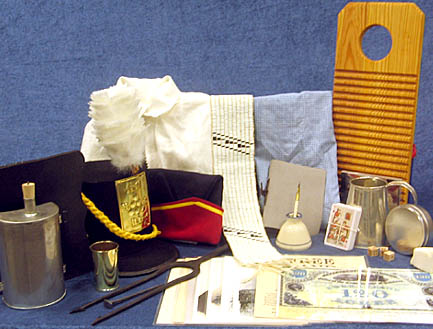 LIFE AT FORT MEIGS CASE HISTORY
Available Year-Round
What you'll do & learn:
Use reproduction artifacts, documents, and other visual materials related to the War of 1812 to supplement student understanding of Ohio's early statehood and the War of 1812
A teacher resource guide is included with lesson plan suggestions and activity ideas
Associated Costs:
$48 for a two-week rental. Cases may be picked up at Fort Meigs or shipped to your school for an additional fee. Return shipping costs are the responsibility of the renter.
More Details:
Materials designed for a wide-range of grade levels
Teachers can modify activities to best meet curriculum goals and individual student learning needs
Available on a first-reserved, first served basis
All Virtual Programs can be scheduled by emailing John Thompson, Program Manager.
John can be reached at [email protected] or (419) 874-4121.
SOLDIER'S LIFE OUTREACH PROGRAM ( $135 )
Host a virtual call and interview with a soldier serving at Fort Meigs. A historically uniformed staff member at Fort Meigs Historic Site will give an online presentation to your class or group and be able to answer direct questions from participants in real time. Through screen sharing, the presentation will include maps, timelines, and prints detailing the origin and outcomes of the War of 1812 and how the war affected the development of Ohio and the United States. Participants will benefit from seeing the uniform and soldier's equipment through the live call – shedding valuable light on the everyday struggles of life on the front lines.
LIFE AT FORT MEIGS: A CASE HISTORY ( $48 )
The case history is a 24"x18" rentable hard case that is an excellent teacher's aide for instructing the entire War of 1812 era including Northwest Ohio's role in this great conflict. The case includes detailed lesson plans and example assignments for streamlined application. The principle design of the case history program is to use real objects and specific documents to enrich students' understanding of both the American and American Indian way of life in the early 19th century. The focus straddles both the military and civilian experience at Fort Meigs and beyond into the frontier. The volume of articles included could easily fill two weeks of virtual classtime as students explore the differences and similarities to their own lives with the men and women on the front lines. Of particular interest:
• British and American news and propaganda of the time
• Diversity of community in the Old Northwest
• Games and Entertainment
• Historic Clothing
Upon payment teachers will be emailed digital copies of all historic documentation (maps, broadsides, prints, etc.) for easier online use. For a complete inventory of the case history emailing John Thompson, Program Manager.
VIRTUAL VIDEO TOUR ($5 PER PARTICIPANT/ 10 PARTICIPANTT MINIMUM)
The virtual video tour is a one hour film version of the basic on-site guided tour of Fort Meigs appropriate for all ages. This tour includes a live question and answer session with one of our tour guides packaged with the tour. Uniformed Staff members will shed light on the origins and outcomes of the war of 1812 and how American and British/Indian armies came to clash at the Maumee River in Northwest Ohio, a principal theatre of the war. Major highlights and themes of the historic site are visually explored within the fort's walls including Blockhouses, Artillery Batteries, and Monuments as well as the uniform, equipment and weapons of the American soldier. Valuable insight, useful in any online classroom, will be gained in the exploration of:
• Topographic observations and engineering in the fort's design and construction.
• The opportunity to consider chronological events in the timeline of the two principle sieges.
• The realities of military and frontier life are exposed in discussions of camp conditions and medical practices of the time.
• Concepts of legacy and remembrance are investigated in how the United States grew and gained from the experience of its first declared War
ADDITIONAL TEACHING TOOLS
The purpose of this document set is to provide materials, references, and activities that will enable teachers to prepare their students for visiting Fort Meigs or utilizing any of the virtual options offered by the historic site. Additionally, it ensures adherence to the Ohio State New Learning Standards curriculum for Social Studies by addressing each content statement in turn of the Ohio History Strand. This includes the various groups of people who have lived in Ohio, the Northwest Ordinance, and the War of 1812. Each section will contain a 6-part lesson plan for the teacher and the material necessary to carry out the assignment, as well as ideas for follow-up activities if the unit meets with popular success among students.
"In the return of the present Detachment of Ohio troops to their families, and homes, it is due to Ohio and her sons to record their honorable Services."
~ Brigadier-General Green Clay
August 4, 1813