A GRAND UNDERTAKING
The Ohio History Connection (OHC) started the painstaking work of reconstructing Fort Meigs in the late 1960s and opened the museum to the public in 1974. The reconstruction of the fort on its original location was one of the OHC's major projects to celebrate the nation's bicentennial. The archaeological excavations associated with the project uncovered significant artifacts that help scholars understand military life during the early republic. Many of these objects are still on display at the site.
The OHC marked the completion of major restoration of the reconstructed fort on Saturday May 3, 2003. The project was one of the largest of the many legacy projects the OHC planned to commemorate the state's bicentennial year.
Beginning in 2000, the OHC tore down the aging stockade and rebuilt it with new hand-hewn timbers. Workers also repaired the fort's seven blockhouses, five artillery batteries and a quartermaster's warehouse.
The $6.2 million renovation included construction of a Museum & Education Center, new and renovated exhibits in the museum and four fort blockhouses, reconstruction of the stockade and outdoor interpretive signs and landscaping. The museum building is 14,000 square feet and cost $2.9 million.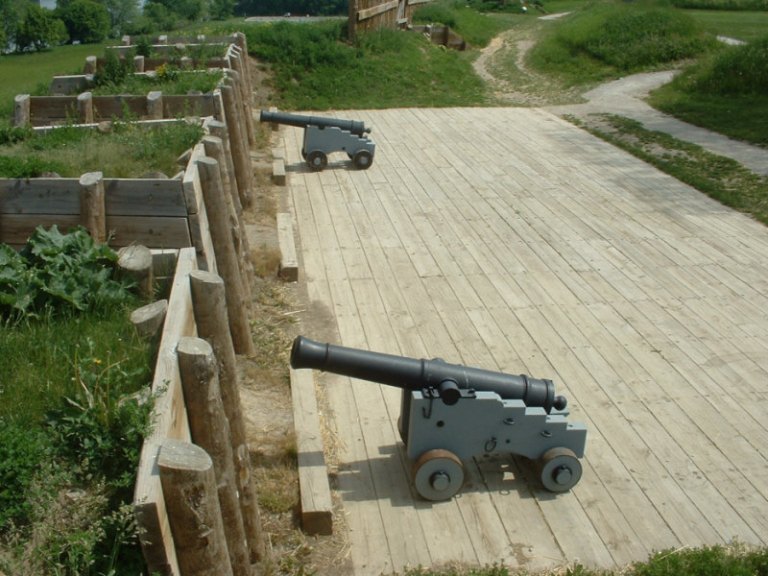 Grand Battery after repairs 
are complete.
TODAY'S FORT MEIGS
The Visitor Center features 3,000 square feet of exhibits on Ohio's role in the War of 1812, classrooms for student and adult workshops, and office and maintenance areas. The museum exhibit, Legacy of Freedom: Fort Meigs and the War of 1812, focuses on the themes of era, conflict, understanding and remembrance. These sections place the War of 1812 into the context of the times and explain Fort Meigs' role in this pivotal conflict. How historians and archaeologists learned what happened at the fort is explored as well as how soldiers and their descendants remembered the events of 1813.
New interactive exhibits in the fort's blockhouses portray the life of a soldier, the building of the fort and dramatic accounts of the sieges against the fort in 1813. In this latter exhibit, a graphic timeline places the War of 1812 in the context of the combative frontier-era Ohio that challenged the state's earliest settlers from 1750 – 1815, as France, England and the U.S. fought to gain control of the region from American Indians
CONTINUED SUPPORT
Future enhancement to the site's educational program are made possible through the ongoing $1.5 million Campaign for Fort Meigs. The campaign created the OHC's first endowment dedicated to one of its historic sites and funds improvements for the museum, landscaping, outdoor recreation, educational programming and collections care and acquisition. Assist the Campaign for Fort Meigs with your own donation.
"[The camp] was judiciously chosen by General Harrison and Captain C. Gratiot of the Engineers, and afterwards fortified with block-houses, batteries and palisades, in such a manner as to stand the test of British artillery..."
~ Captain Eleazer D. Wood
Corps of Engineers, U.S. Army
February 1, 1813