HEARTHSIDE COOKING CLASS (Sold Out)
April 22, 2023
LET'S GET COOKIN'!
Experience life in an 1812 kitchen! Learn how to cook on an open hearth with period kitchen tools. Ms. Annette Bristol, volunteer at Fort Meigs with over twenty years of experience in open hearth cooking, will teach this hands-on cooking class to the first 12 registered participants. Get hands-on experience by creating a dish from scratch and enjoy the fruits of your labor as you sit down to eat the meal at the end of class! All class members receive a cookbook containing the recipes they used in class.
$40 per participant. To register for this workshop, please call 419-874-4121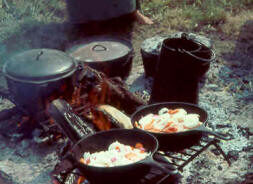 "The men this day have begun to catch fish. I bought one this evening for 75 cents; it weighed 5 pounds."
~ Captain Daniel Cushing
March 18, 1813