Yesteryear's Essentials Revisited: Fads & Fashions in the time of Jane Austen 
April 13-14, 2024
A Weekend Conference of Lectures, Workshops, Presentations, and More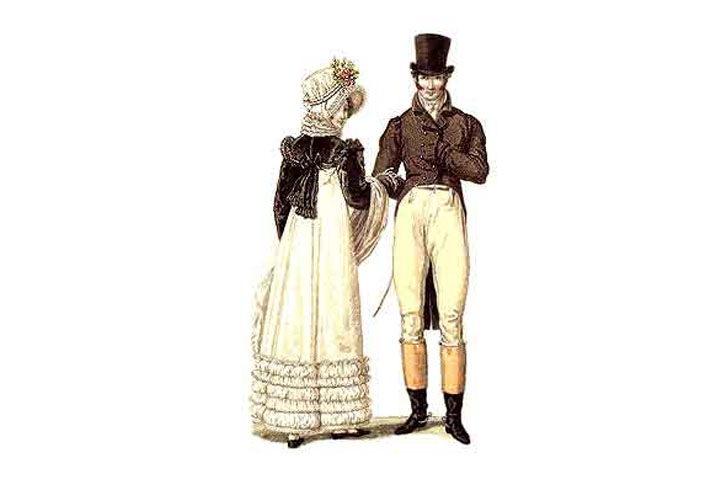 More information coming soon!
Schedule of Events
Check back prior to the event for a detailed schedule and times.
Saturday, April 13, 2024
Daytime Conference
Regency fashion show, themed presentations, and more.
Evening Soiree
Food, Beverages, & Entertainment—Period dress encouraged!
Sunday, April 14, 2024
Post conference
Workshops throughout the day
Hands on workshops will be lead by the presenters from the previous day, guiding you through the detailed creations on their various subjects.  Additional materials and fees may be required.  More information coming soon!
Presenters- (To be determined for the 2024 conference)
Past Presenters:
Brett Walker
Brett Walker began his interest in historical leatherworking and shoemaking nineteen years ago, beginning the first of two formal apprenticeships early in 2001. Brett produced shoes and other leather items for a major film production and several living history museums before beginning his museum career in 2007 at Landis Valley Museum in Pennsylvania. In 2008 he was named as one of Early American Life magazine's top 100 craftsmen, just prior to joining Colonial Williamsburg's shoemaking team as an apprentice under the renowned colonial shoe expert and master shoemaker, D.A. "Al" Saguto.
In 2012, Brett was awarded certifications as a Journeyman Boot- & Shoe-Maker, and immediately began his second college journey, this time toward a degree in History and French. He has conducted extensive documentary and archeological research since 2006, including comparative studies of French and British footwear, ca. 1730-1780. Brett lectures at historic sites throughout eastern North America and is currently writing a series of meticulously-documented historical fiction books in which the primary character is an eighteenth century shoemaker in British North America.
Kathleen Kannik
Kathleen Kannik has been interested in costume design, sewing and needlework since a small child, beginning to sew clothes for herself at age eight. She has a Bachelor of Science degree in Art Education and Journalism from Central Michigan University. Since 1982 she has been involved in living history, and is a member of groups from 18th and early 19th century eras, museum and historical organizations, and is a past member of The Costume Society of America. She began researching and developing period clothing patterns for her own use, and later married another re-enactor who was involved in clothing research and construction, Fritz Kannik. Together they started the company Kannik's Korner, which publishes patterns and related books. They have made period clothing for many people over the years. Their primary research interests extend from the mid 1700s through 1820s. Their goal has been to increase accuracy in period clothing and bring a better overall appearance to the portrayal of historical characters. Kathleen has written and published The Lady's Guide to Plain Sewing, Books I and II, and The Workman's Guide to Tailoring Stitches and Techniques to aid others in making quality reproduction clothing. Kathleen is also a counted cross stitch designer, depicting historical sites located primarily in Michigan and Ohio, and is a model theater enthusiast.
Tamia Land
Tamia has been a volunteer at Fort Meigs since 1996. She developed an interest in early nineteenth century clothing and has done research in collections around the country. She has given clothing talks to several different groups, including MOMCC, the Mississinewa Battlefield Society and the NMRA, the Way Public Library, and has previously spoken at Yesteryear's Essentials: Material Culture for War of 1812 Reenacting Conference. Tamia and her husband make reproduction clothing for the War of 1812 and the early nineteenth century. Their clothing may be seen at Fort Meigs on the staff and in the displays.
Ericka Osen
Ericka has overseen the Historic Clothing departments of both The Henry Ford (Dearborn, Michigan) and Conner Prairie Interactive History Park (Fishers, Indiana). While in those positions she managed both staffing and production of historic clothing. Part of her duties beyond the coordinating of staff, construction of clothing and maintaining of all records was to create clothing patterns from original clothing artifacts and drafting systems. She created these patterns in AutoCAD based computer programs as well as by hand drafting. Ericka has also lectured extensively on the subject of 18th & 19th century clothing for museum organizations such as Midwest Open air Museums, Association of Living History, Farms and Agricultural Museums and the Smithsonian.
Ashley Phlipot
Ashley Phlipot is the Executive Director of Fort Meigs Historic Site. When she began working as a historical interpreter at Fort Meigs in 2008, she developed a passion for sharing the lesser-known stories of the soldiers, camp followers, and indigenous peoples in the War of 1812. Ashley enjoys giving guided tours ofFort Meigs as well creating historical clothing for use at Fort Meigs and other historical sites.
Flying Canoe Traders
a purveyor of reproduction 18th and early 19th century clothing, shoes, and supplies. 
Visit them on Facebook!